10/02/2020 01:30 PM Central
Emily Elizabeth Anderson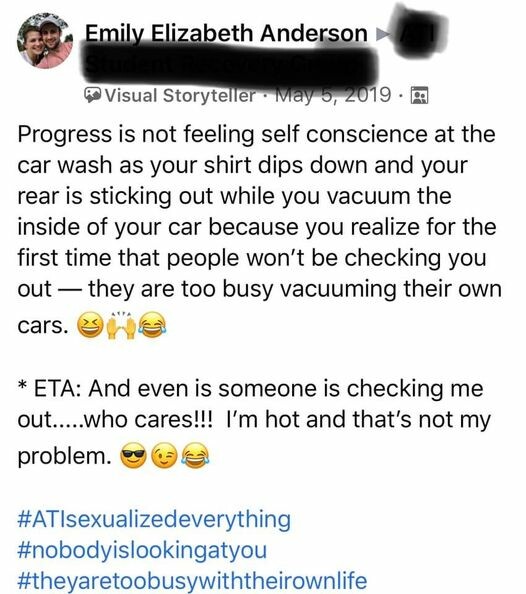 One of the most healing pieces in my journey out of the cult was becoming a member of a few online cult survivor groups. While searching through one of those groups today, I found an old post of mine from May 2019. I LOVE IT! (Please excuse my bold ETA at the end — I was feeling extra snarky after my revelation that day.


)
That moment was actually a huge light bulb moment and turning point for me. For the first time I realize that the world around me didn't notice me or make opinions about me nearly as much as I was taught growing up that they did. The truth is, the rest of the world is far too busy with their own business to notice much else.

What do I believe now? I have chosen to eliminate the word *modesty* from my vocabulary and instead choose to focus on dressing in something *appropriate* for the occasion. I wouldn't wear the same outfit to an interview that I would wear on a date with my husband. I wouldn't go to church in the same clothes that I would wear at the beach.
When I'm choosing my clothes for the day, I pick some thing that makes me feel comfortable and beautiful, and is appropriate for wherever I am going that day......and I walk out of the house choosing not to be responsible for the thoughts of others.
That's right — I firmly believe that it is NOT my responsibility to "protect the eyes of men" around me. What they choose to look at and think on is their responsibility and theirs alone. If I'm going out on a nice date with my husband, I will wear something that makes me feel extra beautiful and is flattering to my figure, because that brings joy to me and my husband, and that's a good thing.

And if another man chooses to objectify me, that is NOT my problem.