Dec 7, 2020 10:53 AM Central
Emily Elizabeth Anderson
I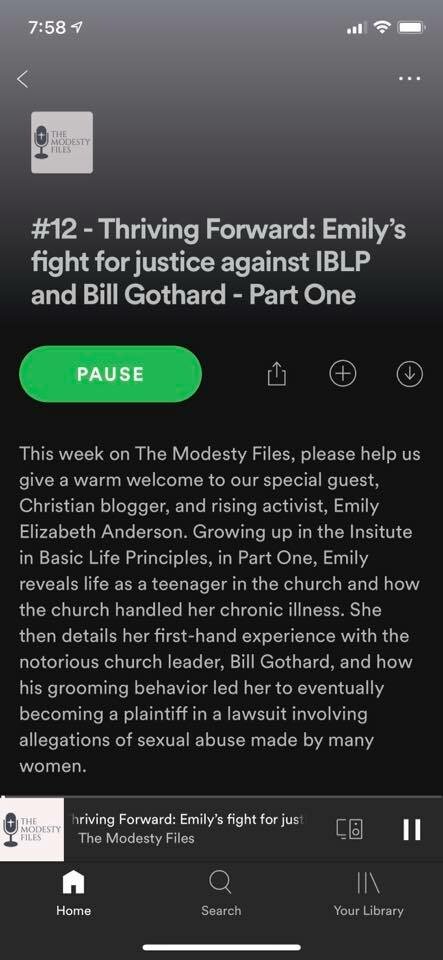 woke up just a touch nervous today. This morning a podcast episode has been released where I talk quite frankly about the messy details of my trauma story.
A few months ago I received an email from a group of three sisters who run a new podcast called The Modesty Files. They found Thriving Forward on a whim while doing research on the Christian Fundamentalists culture and they began to read my story. They soon reached out to me and asked if I would be willing to do an interview with them.
Last month we chatted over Skype for over five hours. Tears of laughter and tears of pain were shared. I told parts of my story I've never told publicly before, and found it to be a cathartic release. Chronic illness and PTSD are vulnerable topics, and ones not commonly discussed. However, I firmly believe that secrets are a breeding ground for shame, and when one is willing to boldly state the truth, the fear behind the pain slowly fades.
In addition to explaining my own inward turmoil, I wasn't afraid of confronting my abusers. My point wasn't to slander; I told my story very carefully, from more of a factual standpoint, allowing the future listeners to drawn some of their own conclusions. My point here is to tell what happened to me and how the trauma I endured later manifested in long-lasting physical, emotional, and mental effects, in hopes of spreading awareness to outsiders and bringing relatability to those who have walked in similar shoes.
We have managed to cut down our five hour of audio into two, one hour episodes. The first was released today and part two will be released next Monday. If you'd like to listen you can search for "The Modesty Files" wherever you listen to podcasts. Click
HERE
to listen on Spotify.
I want to be a safe place for survivors. For those who are in the midst of grief and for those who have long-since healed. If you want to reach out to chat, I'd love to be a set of open and willing ears, as well as a place of empathy and understanding.
Love you all.